The True Allrounder for Emission Monitoring: Siemens ULTRAMAT 23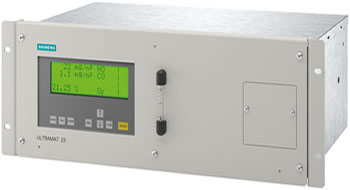 Whether it's about innovative analysis technology, tailor-made plant construction, or in-depth knowledge of your application - ULTRAMAT 23 is one of the most versatile continuous gas analyzers on the market that provides an easy-to-use, powerful and very cost-effective solution for a wide range of applications across many different industries.
If you want to get to know our true allrounder when it comes to emission monitoring, join Siemens at the virtual Air Quality & Emissions Show (AQE) 2021 event on Oct 13th + Oct 14th focusing on industrial air emissions, ambient air quality, protection and treatment.
Gain full insight on the Siemens ULTRAMAT 23 gas analyzer and get your key questions answered by the product manager.
Technical Presentation by the product manager on Oct 13th at 3pm and Oct 14th at 11am.
Be impressed and find out more: https://new.siemens.com/global/en/products/automation/process-analytics/extraktive-continuous-process-gas-analytics/ultramat-23.html