Seminar announcement: 'Delivering Clean Air Zones'
The organisers of AQE 2018, the Air Quality & Emissions show, are delighted to announce a partnership with the Environmental Industries Commission (EIC), which will host a one-day seminar on 21st November focusing on the development of Clean Air Zones (CAZs).
"A significant part of the AQE event will address issues relating to ambient air quality," says AQE Organiser Marcus Pattison. "In particular, there will be specific focus on air quality monitoring, which provides the baseline data that is essential for finding pollution hot-spots and measuring the effects of improvement measures such as Clean Air Zones.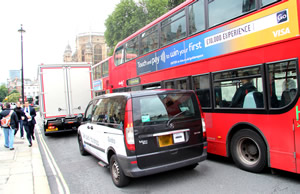 "The EIC hosted seminar will therefore complement the other events at AQE 2018 and delegates will have the added benefit of being able to see almost all of the world's leading manufacturers of air quality monitoring equipment at the AQE Exhibition."
Michael Lunn, EIC's Director of Public Affairs said: "EIC is pleased to host this one day seminar in conjunction with AQE 2018. The seminar will explore the finer details of delivering Clean Air Zones and the challenges and opportunities that will result for business and the communities in which they are planned. The seminar will cover a range of issues including industry led frameworks and innovative technology for reducing emissions within Clean Air Zones."
AQE 2018 will take place at the Telford International Centre on November 21st and 22nd, but this year, the event will run alongside WWEM 2018 (the 8th international conference and exhibition on Water, Wastewater and Environmental Monitoring) so, with both events under one roof, visitors will be able to move freely between the two halls without charge.
EIC Seminar
In 2015, the UK government revealed plans to improve air quality in cities. Greater London will have an Ultra-Low Emission Zone (ULEZ) and 5 charging CAZs are planned for Birmingham, Derby, Leeds, Nottingham and Southampton by 2020. The government is also asking a further 23 councils in England to produce Local Action Plans where they may consider the implementation of a CAZ.
With a wide range of possible models for designing CAZs, and a variety of different technologies that could be mandated or incentivised through them, this seminar will provide an overview of the main design challenges and explain how these can be overcome. The presentations will also address the pollution reduction potential of various vehicle technologies.
Full details on the Clean Air Zone seminar will be available here and the EIC website www.eic-uk.co.uk .