STA GOLDEN STACK AWARD
The STA "Golden Stack Award" is presented to the process operator who, in the opinion of our members, has made significant efforts to ensure the safety, welfare and comfort of stack testers in the field. It is hoped that this award will act as a driver to improve conditions on site for stack testers.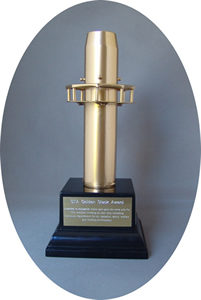 Qualifying Criteria
Minimum standards of safety, facilities and sampling arrangements are laid down in law or in guidance, such as the Environment Agency's M1 and our own "yellow booklet". All process operators should be complying with these as a minimum. Operators not meeting these standards are not eligible for the award.
The award is designed to recognise those operators who have gone the extra mile to protect and assist our members in their work on site, which is often carried out in demanding and uncomfortable conditions.
Nominations
The following aspects of the site/ stack should be considered:
· Access and facilities;
· Health and safety;
· Accommodation and environment;
· Management involvement.
Previous winners
In the past the award has been presented to;
2002 Hanson Brick, Stewartby, Bedfordshire
2004 SITA, Huddersfield
2005 Lafarge, Cookstown
2007 Veolia, Sheffield
2009 Rugeley Power, Rugeley, Staffs
2013 Tata Steel
2015 E.ON, Blackburn Meadows, Sheffield
The award will be presented at AQE, The Air Quality and Emissions conference and Exhibition dinner that will be held on 24th May 2017.
For more details and nomination form visit http://s-t-a.org/goldenstack/