Multiple PM measurements with the ES-405 Simultaneous Particulate Profiler with pending indicative MCERTS approval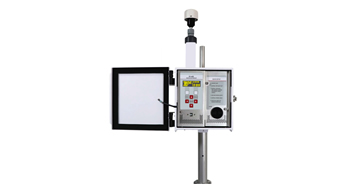 The ES-405 from Met One Instruments is an air quality sensor designed to provide accurate, real-time measurements of PM10, PM4, PM2.5, and PM1 simultaneously in both indoor and outdoor environments.

Having a rugged weatherproof enclosure allows for use in the harshest environments for reliable continuous outdoor operation. An inlet heater reduces moisture-related measurement error.
Suitable for wall-mounting or installation on a vertical mast, the ES-405 is ideal for fugitive emissions and neighbourhood-scale community monitoring projects where simple operation, portability, data download and modest cost of ownership are important considerations.
A complete AQ system is available utilising the ES-405 in the form of the AQ Eagle which includes a CCS COMET Cloud Plus+ modem, an AIO 2 Sonic weather sensor, a 3-year mobile data service plan, a custom webpage and two free calibrations.
Indicative MCERTS approval for the ES-405 is currently pending.
The ES-405 is available in the UK and Ireland from Enviro Technology Services Ltd.