Global technology leader in diaphragm pumps and systems for liquids and gases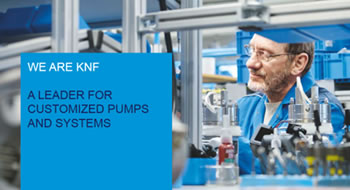 KNF specialise in high quality OEM vacuum pumps, air compressors, liquid/metering/dosing pumps.
With more than 60 years of experience in the design and manufacture of 100% oil-free diaphragm pumps, our pumps are recognised throughout the world for their quality, reliability, and performance in demanding applications.
KNF provides its customers with extensive advice, reliable service and customised, flexible solutions. Our standard pumps are easily modified to suit a wide range of customer specific applications. We work closely with you to design customised project pumps that give you a competitive edge in your market. From its configuration to its testing conditions, your project pump is tailored to your needs.
From medical equipment and instruments, to environmental engineering and analytics, to printing equipment and new technologies such as fuel cells, customers working in any field benefit from KNF's expertise and many years of experience in diaphragm pump technology.