Advanced Analytics Made Into A Commodity: Siemens ULTRAMAT 23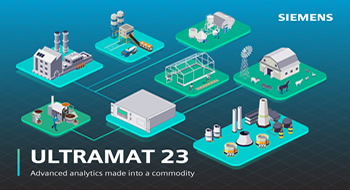 To obtain exact results on the composition of gases, the measurement results must be very precise.
Whether it's about innovative analysis technology, tailor-made plant construction, or in-depth knowledge of your application - Siemens Process Analytics supports you when it comes to efficient process analysis as well as fulfilling strict legal requirements.
Join Siemens at the virtual Air Quality & Emissions Show (AQE) 2021 event on Oct 13th + Oct 14th, as we will be presenting our true allrounder when it comes to emission monitoring: Siemens ULTRAMAT 23.
ULTRAMAT 23 is one of the most versatile continuous gas analyzers on the market that provides an easy-to-use, powerful and very cost-effective solution for a wide range of applications across many different industries. Whether you need to comply with regulatory emission guidelines, do combustion optimization or to measure components that will help you fine-tune your process.
Gain full insight on the Siemens ULTRAMAT 23 gas analyzer and get your key questions answered by the product manager.