Find out how to efficiently deal with dust measurement in wet gases at CEM India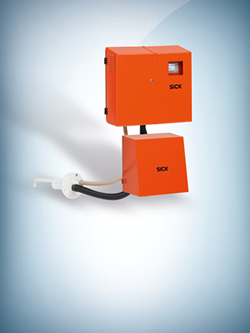 SICK INDIA PRIVATE LIMITED, exhibiting at CEM India on stands 24 and 25, was established in 2005 to cater to the needs of Indian customers locally in line with the high quality products and services that the SICK Group is renowned for worldwide. SICK has its own offices at Mumbai, New Delhi, Bangalore, Pune, Jamshedpur, Ahmedabad and Chennai, besides a wide distributor network.
From factory automation to logistics automation and process automation, SICK is one of the leading sensor manufacturers. As a technology and market leader, SICK provides sensors and application solutions that create the perfect basis for controlling processes securely and efficiently, protecting individuals from accidents, and preventing damage to the environment.
The SICK stand will feature the FWE200DH extractive scattered light instrument for reliable dust measurement in wet gases. The FWE200DH measures small to medium dust concentrations accurately and very reliably. The gas is extracted via a sampling probe and heated above the dew point of sample gas. Droplets in the gas are vaporised, making it impossible for them to falsify measurement results. The highly sensitive scattered light measurement principle enables accurate measurements even at very low dust concentrations.
The FWE200DH meets the requirements of EN 14181 and EN 15267. It offers economic operation due to very few consumable parts and very low installation effort, as well as a long service life and very low maintenance, since no parts come into contact with the aggressive gas.
The instrument is suitable for the monitoring of wet gas scrubbing facilities, measurement in saturated gas downstream of desulphurisation plants, and for the determination of dust concentrations in wet exhaust gases.