New guidance on gas detection at WWEM 2016
Gas detection has always been an important component of the WWEM events, but organiser Marcus Pattison says: "Following the publication of important new guidance on confined space entry and a new standard for toxic gas detectors, the Gas Detection Zone at WWEM 2016 will be busier than ever.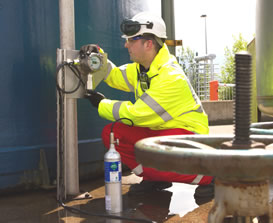 Past events have shown that the Gas Detection Zone is hugely popular with health & safety managers and staff that have to work in confined spaces or areas where there is a possibility of exposure to toxic or explosive dusts and gases.
WWEM 2016 will take place in Telford on 2nd and 3rd November, incorporating Conferences, Workshops and an Exhibition covering water, wastewater and environmental monitoring. Attracting delegates from around the world, the WWEM events have become important diary dates for anyone with a professional interest in environmental and occupational safety testing and monitoring.
The Council of Gas Detection & Environmental Monitoring (CoGDEM) is a WWEM partner. CoGDEM Director Leigh Greenham says: "We are delighted to once again participate in the development of the hugely popular WWEM Gas Detection Zone, which will provide visitors with the chance to see innovative new gas detection instruments; some of which will be displayed for the first time."
WWEM 2016 will also provide an opportunity for visitors to attend free workshops and seminars which will be relevant for engineers and managers from utilities and from processing and manufacturing industries. Visitors to the Gas Detection Zone will improve their knowledge of the latest standards, guidance and technologies relating to all forms of gas detection. Subjects covered will include: confined space entry; new standards and guidance for toxic gas detectors; the selection of apparatus; new gas sensor development; all complimented by a variety of topical case studies.