Meet world leaders for high-quality fittings and fittings made of special plastics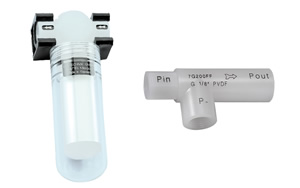 With 160 employees, the EM-Technik group is considered as one of the leading global manufacturers of high quality miniature fittings and connectors made of special plastics. The company was founded in 1965 in Ludwigshafen, Germany, and has consistently developed precision fittings and high performance connectors while establishing itself internationally with subsidiaries and commercial agencies in Europe, Asia and the USA. The Indian subsidiary, EM-Technik India Pvt. Ltd., based in Pune, will be exhibiting at CEM India on stand 51.
With guaranteed high standards of quality and safety, the company produces about 3 million items a year using the injection moulding process and mechanical production. The clean room, built in 1997 in accordance with DIN EN ISO 14644-1 class 5, was expanded in 2018 with the construction of the new production clean room in accordance with DIN EN ISO 14644-1 class 7. Plastic fittings and connectors are manufactured in nominal diameters from 0.7 to 25 mm or DN 04-10 mm. The threads are also manufactured in accordance with DIN, USAS and JIS to allow for worldwide sales.