Leading Indian exporter of air, gas and water monitoring equipment to show off their technology at CEM India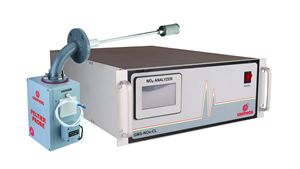 Uniphos Envirotronic, who will be exhibiting on stand 46 at the upcoming CEM India, is one of India's largest manufacturers of gas detection devices and environmental monitoring equipment. With 20 technological patents filed and a dedicated in-house R&D team, Uniphos provides a wide range of products from portable and fixed gas detectors to water quality and emission monitoring equipment. Uniphos is an ISO 9001 & ISO 14001 certified company with customers from over 45 countries encompassing large petrochemical industries, oil refineries, government establishments, fumigators etc.
Uniphos CEMS is an online analyser for measuring the concentration of various toxic gases in industrial process/boiler stacks. Different technologies are available (chemiluminescence/ fluorescence/ NDIR/ TDLAS) depending upon user requirements. The hardware and software comply to CPCB requirements.
With products certified/tested by various agencies like ATEX, IECex, TUV, etc., Uniphos provides a complete range of safety and environmental monitoring solutions.