Sensirion's mass flow controllers with bets-in-class lead times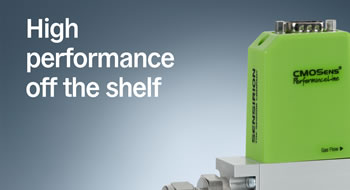 Our versatile mass flow controllers are suitable for industrial and medical applications and come in various configurations to fulfill your exact needs. They are characterized by fast and accurate control of gas flow over a wide dynamic range. With our SFC5500 product line for example, we offer off-the-shelf mass flow controllers equipped with multiple gas calibrations. It is available through our distribution partners with overnight shipping.
Based on the innovative CMOSens® technology, the heart of these mass flow controllers is a calorimetric microsensor (MEMS), which is integrated with the complete signal conditioning electronics on one single chip. While the flow is measured using the thermal measurement principle, efficient control is provided by a PID control circuit. This unique integrated technological approach results in excellent performance and reliability - at a very attractive cost.