PEFTEC 2019 - Floorplan Booking
PEFTEC 2019 is Exhibition and Conference for Companies specialising in monitoring and analytical technologies for the Petroleum, Refining and Environmental Industries.
If you would like to exhibit in PEFTEC 2019, please contact David Hellyer at david@ilmexhibitions.com. You can choose your stand location by viewing the Floor Plan and filling in the stand preference form below.
Booking Rate - € 4095 + VAT
Stand packages consist of:
Full shell scheme 3*3m
Fitted carpet
Nameboard
Electric Point & Electricity
1 x 30 minute workshop
Unlimited exhibitor and customer invite passes to the exhibition
Free Wi-Fi in Hall
50% discount voucher code for conference passes which you can share with customers
Entry into printed event catalogue
Press release support in Petro Industry News show preview
Online company and product profile with Logo, Social media and weblinks
PEFTEC 2019 Floorplan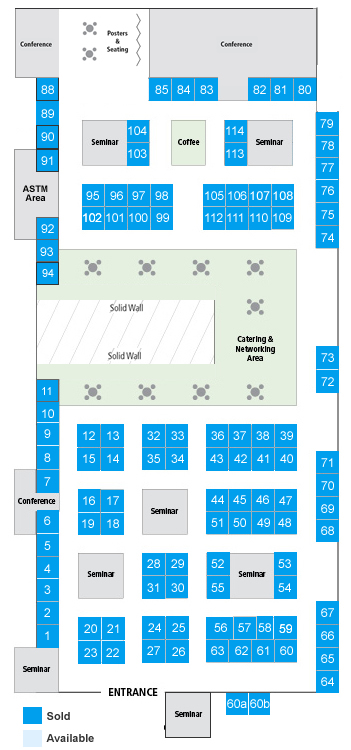 PEFTEC 2019 Exhibitors
| Exhibitor | Stand No |
| --- | --- |
| AAVOS (ETServ) | 67 |
| AAVOS International | 69 |
| ABB | 82 |
| AGC Instruments | 112 |
| Agilent Technologies | 83 |
| Air Liquide | 37 |
| Air Products | 14 |
| AirQIS | 80 |
| AlyTech | 52 & 55 |
| Analytik Jena | 33 |
| AP2E | 41 |
| Applied Rigaku Technologies, Inc. | 63 |
| ASTM International | 91 |
| Atmosfir | 42 |
| Baker Hughes | 97 |
| BaSystemen | 60 & 61 |
| Baytek International | 16 |
| Blackline Safety | 60 & 61 |
| Boreal Europe BV | 10 |
| Bruker AXS | 17 |
| Casella Solutions | 60 & 61 |
| Chemplex Industries | 50 |
| Chromatotec | 106 |
| Clean Air Engineering | 20 |
| Da Vinci Laboratory Solutions | 52 & 55 |
| De Groot Instruments | 18 |
| ECH Elektrochemie Halle | 44 |
| EcoChem Analytics and Messtechnik | 51 |
| Elemental Microanalysis | 13 |
| Elicra Electrowarmte | 34 |
| Energy Institute | Partner |
| Eraly & Associes | 110 |
| European Lab Services | 31 |
| F-DGSi | 52 & 55 |
| FLIR Systems | 1 |
| G.A.S | 45 |
| GAS Global Analyser Solutions | 101 |
| Grabner Instruments | 113 & 114 |
| HORIBA Europe gmbh | 105 |
| I-GraphX | 40 |
| INFICON | 109 |
| International Labmate | 86 |
| Joint Analytical Systems | 95 |
| JSB | 39 |
| Keit Spectrometers | 85 |
| LAR Process Analysers | 6 |
| LNI Swissgas | 71 |
| M&C Techgroup | 38 |
| Magritek | 92 |
| Malvern Panalytical | 53 & 54 |
| ModuVision Technologies | 102 |
| National Physical Laboratory | 96 |
| Nippon Gases | 19 |
| Nippon Instruments Corporation | 60 & 61 |
| OmniTek | 22 & 23 |
| Optimus Instruments | 24,25,26 & 27 |
| Orbis | 7 |
| P S Analytical | 15 |
| PAC | 24,25,26 & 27 |
| PCB Piezotronics | 111 |
| PerkinElmer | 79 |
| Petro Industry News | 66 |
| Phenomenex | 28 |
| Pollution Srl | 108 |
| proRheo | 98 |
| Qmicro | 70 |
| Qsenz | 65 |
| RAE Systems by Honeywell | 60 & 61 |
| Restek | 101 |
| Rigaku Europe SE | 62 |
| Scion Instruments | 30 |
| SepSolve Analytical Ltd | 21 |
| Shimadzu | 56 |
| SilcoTek | 36 |
| SK-Elektronik | 32 |
| Specac | 5 |
| SRA Instruments | 43 |
| Stanhope-Seta | 99 & 100 |
| Synchron Lab Automation & Engineering | 78 |
| Tamson Instruments | 72 & 73 |
| TE Instruments | 72 & 73 |
| Tecam Group | 35 |
| TSHR International | 99 & 100 |
| Turnkey Instruments | 74, 75 & 76 |
| Verholt | 59 |
| VICI AG | 103 & 104 |
| VUV Analytics | 12 |
| XOS | 29 |
| Zematra | 46,47,48,49 |