PEFTEC 2019 - Exhibitor - Spectrum Quality Standards
Spectrum's Calibration and Q.C. Standards have been formulated to meet the requirements of both ASTM and EPA Methods. All raw materials are checked for chemical purity and the prepared standards analyzed for composition. The results are then compared against the gravimetric figures and are NIST traceable by weight. The Standards are designed specifically for the Analytical Chemist to efficiently and economically analyze for the required properties.

The advantages of using Spectrum's Standards are:
Increased confidence in analytical results by using Method Specific Calibration Standards
Minimum time spent preparing calibration curves, enabling greater productivity by laboratory staff
All Standards are ready to use and available with or without an Internal Standard; Standards are made in large quantities and packaged in glass ampoules, thus ensuring uniform composition and continuity of supply of Standards with the same composition; Daily Calibration Checks and Reference Standards are available, conforming to ASTM Methods
Large quantities are available for the calibration of Process Analyzers.
Spectrum Quality Standards is committed to providing Certified, Verified and Analytically Traceable Standards to the Petrochemical Industry. All orders for 'in-stock' products are shipped the day we receive the order.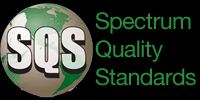 Products on Display at PEFTEC
---