PEFTEC announces Technical Programme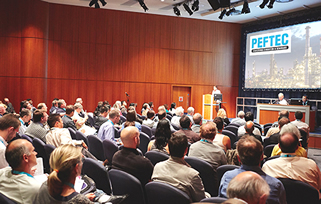 The organisers of PEFTEC 2015, the petrochemical industry's testing and monitoring event, have unveiled details of the event's Conference and Seminar Programme, featuring speakers from the oil and chemicals industries, technology manufacturers, standards organisations, research and academia. Speaker and abstract details are available for all of the Conference and Seminar presentations at www.PEFTEC.com.
Taking place at the Antwerp Expo from 18th-19th November, PEFTEC 2015 was created to provide the petrochemical industry with an opportunity to discover the latest information on testing and monitoring, in the laboratory, in the field and on-site. Visitors will be able to choose from a wide variety of presentations covering key topics such as Analytical Standards, Quality Assurance, Regulation, Analytical Techniques, Process and Environmental Monitoring.
On Wednesday 18th November, the Conference will focus on Environmental Monitoring, Process Monitoring and Regulation in and around petroleum and petrochemical plants. Then on the following day, the conference will have an analytical theme, addressing issues such as the latest developments in Mass Spectrometry and Gas Chromatography, and in hybrid or hyphenated techniques, and novel detection technologies.
Visitors to PEFTEC 2015 are now able to register at www.PEFTEC.com. The cost of attending the Conference is €125 + VAT per day before 14th October and €175 + VAT after this date. However, registered visitors will be provided with free access to the event's exhibition, featuring over 120 international laboratory and process monitoring equipment suppliers and analytical service providers.
The PEFTEC Seminars are also free to attend for registered visitors, and these will take place in the 8 seminar rooms that will be located in the Exhibition Hall. Over 80 Seminars will be available offering the latest help and advice on almost every issue relating to detection, monitoring and analysis in the petrochemical sector. "With so many different subjects to choose from, the Conference will address Environmental and Safety themes on the Wednesday whilst the Seminars address Analytical themes; and vice versa on the Thursday," reports PEFTEC organiser Marcus Pattison. "By attending on both days, delegates will therefore be able to benefit from the presentations of most relevance to them."