Dates announced for Methane Emissions Conference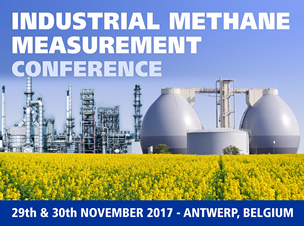 The organisers of the Industrial Methane Emissions Conference have announced that this year's event will take place alongside PEFTEC 2017 in Antwerp on 29th and 30th November. "By running both Conferences at the same time and in the same place, we will provide delegates with an opportunity to visit the PEFTEC Exhibition which will feature many of the technologies being discussed at both events," says Scientific Committee Chair Rod Robinson from NPL.
The Industrial Methane Measurement Conference 2017 will put a spotlight onto industry requirements in an increasingly regulated post 'Paris Agreement' world. Leading experts will discuss latest field studies and policy developments alongside showcasing cutting edge methods and novel technologies for monitoring fugitive methane emissions including leak detection, identification and quantification as well as long term monitoring.
The key themes of the conference will include: an examination of anthropogenic methane emission sources; the assessment of uncontrolled and controlled emissions; current measurement methods, including case studies; relevant international regulations and drivers; industry needs; quality assurance and validation; the interpretation of measurements, and an evaluation of emerging technologies.
The conference themes were chosen by the event's scientific committee which includes internationally respected academics and researchers from NPL (UK), Environmental Defense Fund (USA), Royal Holloway University of London, DBFZ (Germany), Sigma Space Corporation (USA) and TOTAL (France).
The organisers of the Industrial Methane Measurement Conference have issued a Call for Papers, with a deadline of 5th May 2017, and abstracts can be submitted via the event website www.ilmexhibitions.com/peftec/imm-abstract-submission/ .
Methane is an important Greenhouse Gas, absorbing significantly more energy than carbon dioxide for example, so it performs a major role in global warming. However, the persistence of methane in the atmosphere is much shorter than carbon dioxide, so initiatives to lower methane emissions are likely to be effective more quickly. "It is therefore vital that methane emissions are measured accurately and reliably," says Rod Robinson. International treaties to combat climate change rely on the quality of emissions data, and amendments to prior estimates can have enormous ramifications for industries such as oil, gas, waste management and agriculture.
Reliable data are also required to inform decision making in the energy sector because different energy sources cause different levels of methane emissions. Methane is also an important component of many fuels, so it is a valuable resource that must be monitored accurately and effectively to avoid wastage and improve efficiency.
"Conveniently, the PEFTEC exhibition will provide delegates from both Conferences with an opportunity to see the latest technologies for monitoring methane in fugitive, vented and partially combusted emissions from the world's leading test and measurement equipment manufacturers."