Huge turnout for industrial emissions conference
CEM 2016, the international industrial emissions monitoring event, which took place in Lisbon during May has been hailed a major success. "The last CEM event in Istanbul was very well attended, but the Lisbon numbers increased by a further 22%" says organiser David Hellyer. "This year delegates came from 40 different countries and the CEM Exhibition grew by 14%, so we were absolutely delighted with the further growth in popularity of this biennial event."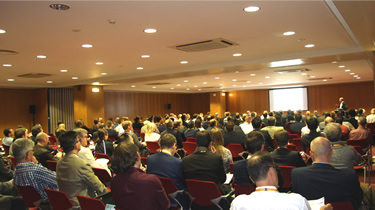 CEM 2016 was comprised of a technical conference and exhibition which provided an opportunity for experts to share knowledge and experience in order to further improve the accuracy, relevance and reliability of industrial emissions monitoring. Engine emissions from road vehicles were not covered by the CEM conference, but several speakers highlighted the scandal that has hit the automotive sector and emphasised the need for the industrial sector to continue to ensure that its emissions monitoring data is accurate, reliable and representative.
The Lisbon Conference was the 12th in a series of international events that began in 1997. Since that time, CEM has taken place in a variety of countries including the UK, Netherlands, Denmark, France, Switzerland, Italy, Czech Republic and Turkey.
CEM 2016 provided delegates with the latest information on technologies, methods, applications, legislation and standards in relation to the emissions monitoring of pollutants including: particulates, SO2, NOx, CO, CO2, VOCs, trace pollutants and greenhouse gases.
In addition to a Conference featuring speakers from 13 countries there was an Exhibition including over 50 of the world's leading providers of measurement technology and analytical services, in addition to regulators and standards organisations. As a result, visitors were able to access the latest help and advice on the regulations that affect their sector, the methods that apply to their processes, the applicable standards and the latest technologies for achieving accurate reliable measurement data that meets the requirements of their environmental permit.
Over 120 high quality abstracts were submitted for potential inclusion in CEM 2016, with 48 presentations being selected to cover a comprehensive range of themes. These included Standards and industrial regulations, Carbon Trading, the certification of automated measuring systems, flue gas flow rate measurement, emissions monitoring on ships, biofuels emissions, dioxins monitoring, the new Non-Road Mobile Machinery (NRMM) Regulation, Predictive Emission Monitoring System (PEMS), total organic carbon (TOC) monitoring with FTIR, continuous monitoring of marker molecules by GC-IMS, PM from stationary sources, the implications of the 20/20/20 target for Europe (to decrease the emissions of GHGs by 20% and to increase the use of renewable energy to 20% by the year 2020), and the monitoring of Mercury and other trace metals and fugitive emissions.
On the final morning of the Conference, speakers from around the world provided overviews of industrial case studies. Abstracts for all of the presentations are still available from the Conference Programme tab of the CEM 2016 website www.cem.uk.com .
Feedback from delegates was extremely positive. Describing CEM 2016, a visitor from Slovenia said: "Great opportunity to be up to speed with developments in emission monitoring." A visitor from NPL in the UK said: "Very good chance to meet and interact with others working in the emission monitoring field," and an Italian delegate said: "An excellent opportunity to increase your knowledge in the CEM world." Similarly, a Portuguese visitor commented: "CEM 2016 was a meeting point for stack gas emissions colleagues and an opportunity to meet with the equipment suppliers." Emphasising the value of the CEM exhibition, a French delegate described it as: "The place to be for getting all you need in the CEM market."
The CEM 2016 Exhibitors were equally enthusiastic in their praise for the event. Antti Heikkila from Gasmet Technologies in Finland said: "We were absolutely delighted with CEM 2016. Our booth received a high number of visitors from around the world, and the new certification for our enhanced CEMS II e emissions analyser received an enormous amount of interest. We had invited many of our overseas distributors to attend a training event in Lisbon, so CEM 2016 provided a great opportunity for them to add value to their trip. Also, the Conference presentations were of a high quality which further enhanced the benefits of participation in CEM 2016."
Karl Wilber from Tekran said: "The international CEM meetings provide a unique forum to understand industry trends and markets, talk with key technical and regulatory personnel and associated stakeholders, and compare notes with major suppliers of products and services in the CEM and air pollution control and consulting arenas." Susannah Wrenn from Signal agreed, adding: "Good exhibition in a beautiful city, we were really impressed with the quality of the visitors who came from all over the world."
Tecora has now participated in four CEM exhibitions. Their Grégoire Lebrun-Taugourdeau said: "The quality of the contacts, the conference and the show are all exceptional, and we have already booked our stand for 2018!"
The next European CEM will take place 16th-18th May 2018 in Budapest, Hungary, and the organisers will shortly launch a new CEM Conference in India that will take place in New Delhi during 2017. Details for both of these events will be available from www.cem.uk.com in due course.