Unique ISO 17025 verification concept now applicable on general lab equipment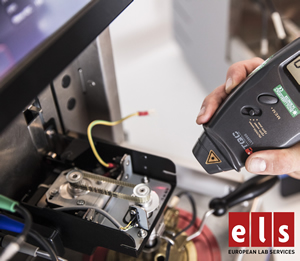 European Lab Services (ELS) was the first and still is, the only company worldwide performing on-site ISO 17025 accredited verification of petroleum analysers. Common examples are ASTM D93 flash point testers, ASTM D86 atmospheric distillation and ASTM D445 kinematic viscometers. The goal of this performance evaluation is to guarantee the accuracy and traceability of the test results produced by the lab analysers.
With an extension of the ELS flexible scope, European Lab Services is now capable of and allowed to perform verification of general lab equipment under the ISO 17025 accreditation. Next to petroleum equipment, the accreditation now also covers thermostatic regulators, water baths, calibration baths, centrifuges, fridges, ovens, climate chambers and many others. Combined with the ISO 17025 accreditation for calibration of temperature sensors and balances, European Lab Services is now capable of testing virtually all lab equipment for performance evaluation.
This extension opens many doors for lab- and QC-managers in search of made to measure calibration and testing packages for their lab. European Lab Services has written more than 150 custom testing procedures for labs in petro chemistry, chemistry and pharma across Europe.