Leading manufacturer of elemental analysis and TOC consumables to exhibit at PEFTEC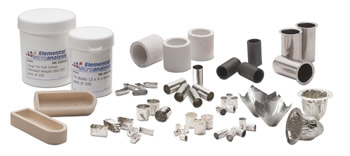 Elemental Microanalysis is a leading independent manufacturer of elemental analysis consumables will exhibit at PEFTEC 2019. Based in the UK, with a worldwide reputation for specialising in producing high quality consumables for combustion elemental analysers and TOC equipment at a great value price.
A huge product range covers thousands of products for organic and inorganic elemental analysis, whatever the instrument or model (Leco®, Thermo®, Thermo Euroglas®, Perkin Elmer®, Sercon®, Exeter®, Eltra®, Horiba®, Elementar®, EuroVector®, Costech®, Shimadzu®, Antek®, Multitek®, Bruker®, VELP®, Gerhardt®).
The Devon facility in the UK holds accreditations to ISO9001 and ISO17025 and the production process for certified reference materials is accredited to ISO 17034:2016. Elemental analysis offers tin and silver capsules, specialist reagents, quartz and glassware, ceramic and graphite crucibles and reference materials - everything needed for the daily operation of an analyser.
TOC consumables are also available for Shimadzu®, Elementar®, Analytik Jena®, Antek®, Dohrmann®, TE Instruments® and others, as well as vials and standards for ion chromatography systems (Dionex® and Metrohm®), and petrochemical standards.