Launch of historic air quality data for the UK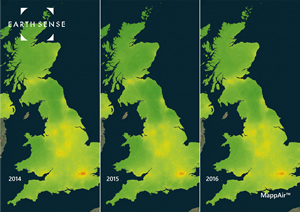 EarthSense are pleased to announce the launch of historic annual datasets of the entire UK at an unprecedented 100m resolution. Delving into the archives, EarthSense have reconstructed air pollution concentrations for 2014, 2015, 2016 and 2017 for every 100mx100m plot of land in the UK.
These datasets draw on DEFRA's network of air quality stations, in addition to a wide array of road layout and vehicle density information, to ensure the most accurate possible statistics.
For the first time, these datasets allow a detailed view of the impact of road layout changes and major programmes to manage air quality over the last 4 years. In addition, trends are available to highlight places in the UK where the air pollution issue is either improving or degrading.
The data is available as a fundamental mapping product and can be converted into bespoke reports by EarthSense or can be used as part of a value-added service by our customers.
Come and visit EarthSense on stand 3 at AQE for more information about historical MappAir data!