Automated solution for isokinetic and derived sampling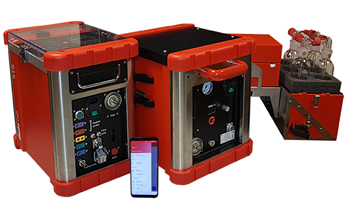 Dado lab recently launched the world's first completely automated solution for isokinetic and derived sampling compliant with EN standards using a side sampling configuration option, such as EN14385, EN13211, EN1911 or EN14791.
This field proven solution featuring the ST5/ST5 Evo sampling system can now be connected to the ADS-1 automated side sampler and controls its working flowrate in order to keep a fixed isokinetic/side flowrates ratio, as specified by the standards.
Users simply set the side sampling operating flowrate on the ST5 isokinetic menu, and that's all; everything is managed by the isokinetic unit.
The ADS-1 "flow loop" greatly helps to prevent problems coming from different inline pressures of the two lines; both isokinetic and derived. This means that it is possible to completely close the side sampling line with a valve without creating any problems for the pump or the impinger train.
Also, a newer version of the Dado Lab Companion app is available for Android smartphones, working as a stand-alone for nozzle or flowrate calculation tools or for wireless connection to the ST5.
The Dado lab team will welcome CEM 2018 visitors to Booth 11