Revolutionary Solution for monitoring Odor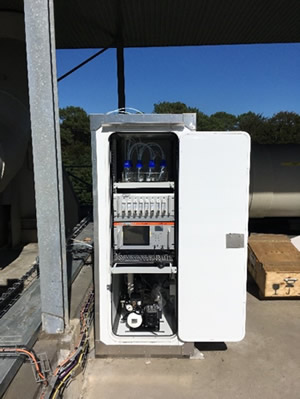 Industrial odors require rapid diagnosis and a strategy to treat odor sources definitively. Today, the sensory panel approach using dynamic olfactometry analysis is considered as the first approach. When investigating the source of the odor, an online monitoring system provides for the best available methodology.
In response, Chromatotec® has developed the solution for online analysis of odorants with sulfurs speciation in addition to VOCs monitoring including ammonia (NH3). All-in-one, turn-key vigi e-nose solution can be deployed wherever odorant monitoring is required, with the ability to measure in ppb or ppt in ambient air and process applications.
The CANOPIA recovery center in Bayonne, France, has recently deployed Chromatotec®'s solution. This site collects domestic waste from 200,000 citizens and converts it to compost, solid recovered fuel and biogas utilizing the VALORGA methanization process. Urbaser Environment designed and manages the site through the VALORTEGIA subsidiary.
The vigi e-nose analyzer is part of vigiOdor solution developed for online monitoring and modelling of the site contribution of the olfactory and chemical impact of the site on neighbourhood. vigiOdor is the web platform fed data by vigi e-nose and a local weather station. It integrates spot measurements using sensory data (EN 137125 method), allowing for site mitigation procedures with a better understanding of process variations, and facilitates communication with authorities.