New Internet gas monitor launched at PEFTEC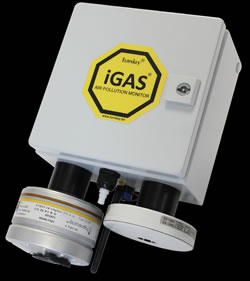 Turnkey Instruments Ltd. is a unique company, offering the only ISO9001 accredited industrial and scientific instrumentation that is both designed and manufactured in the UK. To add to our unique range of products, Turnkey are proud to announce that we will be launching the brand new iGAS at this year's PEFTEC 2017 exhibition
The iGAS instrument is a breakthrough product in the market as it truly represents fantastic value for money whilst offering an extensive range of features that make using the iGAS instrument very easy. Furthermore, this product is available in all continents of the world.
The iGAS is flexible and compact, easy to deploy and maintain and has low cost ownership. It can measure and record up to 8 gas species simultaneously and has automatic zeroing by internal zero gas generation, virtually eliminating drift. The iGAS also records atmospheric pressure, temperature and relative humidity.
This instrument has RS485, Ethernet, WiFi and Bluetooth connectivity, as well as complimentary Android and iPhone apps. For your convenience, any data produced is accessible online, from your smart phone, tablet or desktop. Furthermore, the iGAS can be battery, mains or solar powered.
Visit Turnkey Instruments at PEFTEC on stands 108 and 117.