Pearl - fast liquid FTIR analysis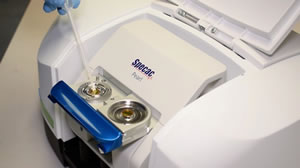 The Specac Pearl spectrometer accessory is drastically changing how liquid is analysed using FTIR transmission spectroscopy.
The liquid cell, aka 'Oyster Cell', is easily opened, changed and cleaned, allowing fast measurement of liquid sample of various consistencies with minimal preparation.
Samples can be introduced with a pipette or syringe and there is minimal mess or fuss.
Recently, Specac analysed Olive oil using the Pearl FTIR liquid accessory. A calibration curve was established, determining the % of sunflower oil against absorbance for future readings.
Please visit us at Stand 56 to find out more.