Optical Gas Imaging Camera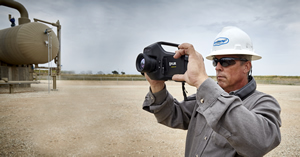 FLIR Systems will showcase the FLIR GFx320, an optical gas imaging (OGI) camera for the oil and gas industry that is designed for use in potentially explosive atmospheres, at PEFTEC 2017. The FLIR GFx320 detects and visualizes invisible hydrocarbon gas emissions, such as methane, and common volatile organic compounds (VOCs) found at oil and natural gas facilities. It carries certifications to global standards and is recognized as Intrinsically Safe, explosion-protected equipment by the International Electrotechnical Commission.
As a certified Intrinsically Safe OGI camera, the FLIR GFx320 represents ground-breaking technology for surveying critical and potentially dangerous work zones.
For a demonstration of the FLIR GFx320 you can visit FLIR at stand 147 at PEFTEC or visit www.flir.com/gfx320 for more information.