TOC and COD Analyzers for IECEx and ATEX zones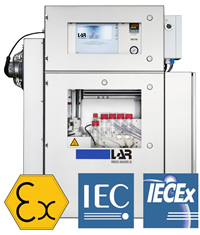 Explosive areas necessitate safety protection measures in order to ensure high labor safety as well as operational safety. With its online TOC (total organic carbon) and COD (chemical oxygen demand) analyzers QuickTOCultra, QuickTOCpurity and QuickCODultra, LAR Process Analysers, Germany, offers stand-alone measuring equipment with explosion-proof housings certified according to the latest ATEX and IECEx standards. LAR's custom-fit analyzers come with stainless steel housings with over pressure encapsulation and purging system (Ex p) that do not require air-conditioned shelters, providing an easier way to maintain and operate the measurement systems. LAR analyzers are ready for operation in ATEX Zone 1 and Zone 2 (T3/T4) as well as in IECEx Zone 1 T4.
Please visit LAR on stands 46 and 47 at PEFTEC.