Ametek land opacity and particulate matter monitors and portable gas analysers at CEM India 2017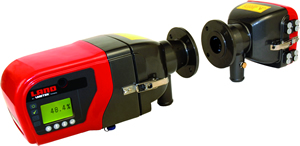 AMETEK Land, one of the world leaders in combustion and environmental monitoring instrumentation, will demonstrate its range of high-accuracy opacity and particulate matter monitors, and portable gas analysers.
Our 4500 MkIII opacity and 4650 particulate monitors have set the industry standards for compliance opacity and dust concentration monitoring. The 4500 MkIII achieves the highest available specification for the principal performance parameters as defined by the internationally recognized ASTM Standard D 6216-12.
The Lancom 4 portable gas analyser ensures ease-of-use on site for combustion efficiency and emissions monitoring measurements. Using an advanced sample conditioning system and having the ability to monitor up to 9 different gases and 17 measurement parameters simultaneously, the Lancom 4 offers the best accuracy available.