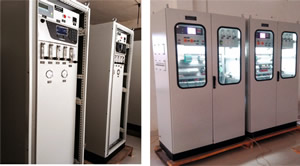 AIC Demonstrates their Hot Extractive & Dilution Extractive CEM Systems with Fives Pillard Back Scattering SPM Analyser.
As one of the India's leading manufacturer of emission monitoring equipment, AIC will display some of its latest technologies at CEM India 2017, including continuous emission monitoring equipment and SPM Monitors for compliance monitoring.
The main focus of the AIC Stand will be the continuous emission monitoring systems including SPM Monitors. AIC will be displaying their complete product range including Mercury Analysers, AAQMS, Zirconia Probe Oxygen Analysers, SWAS Analysers & Analysis Systems, Gas Detection Systems and EQMS.
Technical experts from AIC & Fives Pillard will be available on stand 43 & 44.