Independent manufacturer of Elemental Analysis consumables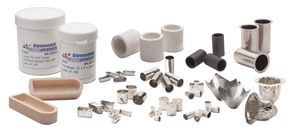 Elemental Microanalysis is a leading independent manufacturer of Elemental Analysis consumables
Based in the UK with a worldwide reputation, they specialise in producing high quality consumable products for Combustion Elemental Analysers and TOC equipment at competitive prices.
Their extensive product range covers organic and inorganic elemental analysis, whatever your instrument or model (Leco®, Thermo®,Thermo Euroglass®, Perkin Elmer®, Sercon®, Exeter®, Eltra®, Horiba®, Elementar®, EuroVector®, Costech®, Shimadzu®, Antek®, Multitek® Bruker®,VELP®, Gerhardt®…..).
Their purpose-built facility in the UK is fully accredited to ISO9001 and ISO17025. They offer tin and silver capsules, specialist reagents, quartz and glassware, ceramic and graphite crucibles, reference materials and much more – everything you need for the daily operation of your analyser.
They also provide TOC consumables for Shimadzu®, Elementar® and others as well as Vials and standards for Ion Chromatography systems ( Dionex® and Metrohm®), Petrochemical standards and Custom made standards.
Please come and discuss your requirements on stand 141 at PEFTEC