Nexus Solutions launches new Emissions Data Logger at CEM India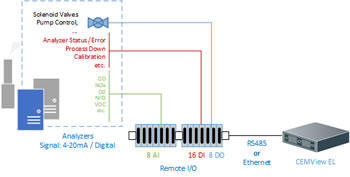 CEMView-EL represents an integrated Software and Hardware Data Acquisition System specifically designed for Stack (chimney) emissions.
CEMView-EL incorporates many of the same features as traditional DAS systems in an economical package. Some features include:
Compliant data reduction compliant with US EPA Part 60 or European Regulations.
Data Flagging for Maintenance, Calibration, Malfunction, Process Down.
Built in Calculations for O2 Correction, Mass Rates, Emission Rates, Mass Flow
Menu driven Data Reports
Full Alarming functions with Events History
Automatic Database Backups
Customizable charts
100% User Configurable
Visit us at Stand 29.