Dilution effects minimised...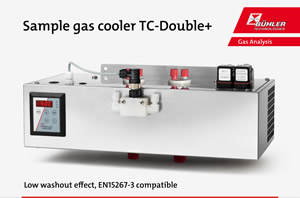 Moisture must be eliminated from sample gas streams in extractive gas analysis systems. This is typically done by special gas coolers. As a side effect, due to physical/ chemical reactions of the forming condensate with some of the gas components, dilution effects are observed which may influence the results of the analysis. These effects are particularly intolerable in emission monitoring.
The degree of the dilution effect is triggered by various parameters, one of them is the design of the applied heat exchanger and another one the control mode of the system. These two factors should (must?) consider (take into account?) that the energy contend of the sample gas is degrading while the cooling process is under way.
The new gas cooler series TC double+ has been specifically designed for these sensitive applications. The new series is based on two combined but thermally independent cooling blocks. Each of them is controlled individually. Inserted into these blocks are heat exchangers of a specific design. The sample gas cascades through the two heat exchangers and the moisture content is removed so gently that the residual dilution, for example of SO2, stays below a tolerable value according to EN 15267.
The heat exchangers are available in PVDF or glass and cover a broad range of such sensitive applications. The gas cooler can be equipped with auxilliary items like moisture detector, filter or condensate pump.
The cooling performance at a flow rate of 250 Nl/h reads up to 140 kJ/h. The outlet dew point comes adjusted at 5°C ex works and is stabelised at 0,1°C. The allowable ambient temperature is 60°C and makes the units suitable for use in almost all climate zones. The display for the block temperature can be set in °C or °F and shows the status on demand. Alarm outputs as well as the dew point can be adjusted individually if required. A condensate pump can be controlled via the status output.