Small in Size, Huge in Performance - Expanded Gas Detector Range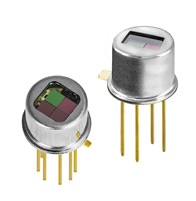 The LRM‐202 (TO46 housing) and the LRM‐254 (TO39 housing) expand InfraTec's range of miniaturised multi-channel detectors. In their cap a central window has been added, that can be soldered to the housing to create a complete hermetic seal. The channel filters are placed inside the detectors. There, they are shielded from mechanical and physical stress as well as from other strains from harsh environments. While the field of view is significantly wider, more radiation reaches the pyroelectric element and allows a higher signal. Therefore, the whole series proves to be extremely powerful. Being thermally compensated these detectors are suitable for gas analysis and leakage detection and can be used in stationary and portable devices.
Visit InfraTec at AQE 2017, Stand 40.