"Smogmobile" on Display at UK's Leading Air Quality Show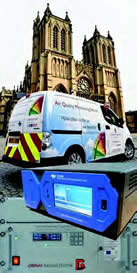 What's on Enviro Technology's stand this year at AQE 2017?
The latest technology for direct NO2 measurement with the T500U CAPS, the popular EDM180 Environmental Dust Monitor for simultaneous measurement of PM10 and PM2.5 and ET's new Compact Ozone analyser, the compact Model 430: ideal for portable studies and fi eld work.
ET will also be displaying their very own 'Smogmobile', a zero emission Mobile Air Quality Monitoring Laboratory capable of monitoring NOx, NO2, O3, CO2, CH4 and PM, whilst on the move or stationary.
The Smogmobile has been busy this year measuring NO2 and PM concentrations on some of our busiest roads, yielding interesting results. By marrying pollutant data and GPS coordinates, ET have been able to analyse spatial distribution of air pollution in cities.
Head to Stand 72 to find out more.