Flexible Choice of Air Quality and Emissions Monitoring Equipment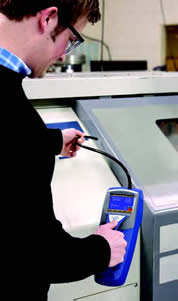 The Ashtead Technology Stand 77 at AQE 2017 will feature a comprehensive range of both workplace and emissions monitoring instruments including the latest technologies from TSI and Testo. "With a range of the cutting edge technologies, and a choice of fi nancial options, visitors will be able to ensure that their instrumentation matches both their needs and budget," says Josh Thomas from Ashtead Technology.
Visitors will be able to see TSI's Environmental DustTrak (EDT) ambient air quality monitor, which has recently received MCERTS approval. The EDT is quick and easy to set up; delivering live data via the Cloud from the instrument's dust sensor, in addition to signals from other equipment. TSI's latest portable DustTrak instruments will also be available, offering visitors the opportunity to try the instruments – to take particulate measurements and view the data handling and display capabilities. TSI has appointed Ashtead Technology as a Gold Partner and TSI experts will be available to answer any workplace or ambient dust monitoring questions.
As a Platinum distributor, Ashtead Technology will feature Testo's portable emissions analysers, the Testo 340 and 350 on its stand. These instruments are able to measure multiple gases simultaneously in combustion emissions from engines, turbines, boilers, burners and other combustion sources.
The Testo 350 can be confi gured with up to 6 sensors for the measurement of a range of gases including hydrocarbons, and is MCERTS certifi ed for O2, CO, NO, NO2 and SO2. The Testo 350 operates independently on rechargeable batteries, or it can be connected to either AC or DC power (11 to 40V). A handheld control unit can operate the analyser 'docked' in the analyser unit or remotely from the base unit via a data cable or wireless Bluetooth connection. Visitors to the Ashtead stand will have the opportunity to try the Testo instruments and speak to the company's emissions monitoring experts.
Summarising, Josh says: "All of the instruments featured on the Ashtead Technology stand will be available for both rental and purchase; offering customers complete flexibility in their choice of technology and financial options."