Mobile Ambient Monitoring Solutions in the UK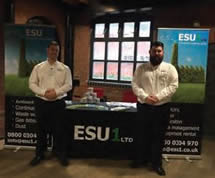 You'll probably know AQE exhibitor ESU1 as one of the biggest providers of ambient monitoring solutions in the U.K, but you might not know about its capacity to deliver mobile monitoring solutions. Patrick Garrison from ESU1 explains more:
"ESU1 has seen a sharp rise in requests for mobile monitoring services in 2017, seemingly as it is the ideal solution for short term projects, proving compliance or nuisance monitoring. With very short notice ESU1 can get a range of monitoring solutions in place, from small dust monitors that you mount to a lamp post, to large monitoring container cabins which can house a suite of analysers".
ESU1's ability to provide mobile solutions doesn't stop at deployment; with a host of in-house services including ground works, electrical connecting, commissioning, ongoing maintenance and web hosted data, ESU1 is your choice for delivering a complete solution.
For more information on ESU1 and its range of services email info@esu1.co.uk or call 0800 030 4970 free today to fi nd out more. ESU1. At your service.
ESU1 is an ISO 9001 certifi ed company providing expert service and maintenance support of pollution monitoring equipment to some of the world's largest mining and construction concerns through to local authorities. Delegates at AQE 2017 are invited to join ESU1 for a coffee and a chat about all your ambient pollution monitoring needs, at Stand 68.