Mercury Analysers with Unique Technical Specifi cations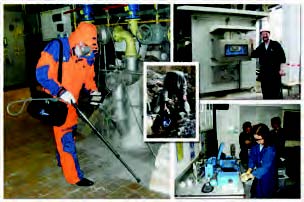 For more than 20 years Lumex Instruments manufactures, sells and supports mercury analysers with unique technical specifi cations. The instruments are based on Zeeman atomic absorption spectroscopy with high frequency modulation of background absorption, which eliminates the effect of potential interferences. This technology allows ultrasensitive highly selective real-time measurements without any need for chemicals, any carrier or zero gases for operation. Most of the samples are analysed directly avoiding time-consuming and costly sample preparation and pre-concentration on the gold trap.
At AQE 2017 LumexAnalytics will show the complete range of mercury analysers used for determination of mercury in ambient and workplace air, solutions for the monitoring of stack emissions, and other applications. New solutions, such as instruments for benzene monitoring in air will be presented during the conference. Lumex Instruments ' experts are looking forward to meeting you at Stand 78.