All-new Gas Monitor to be Released at Air Quality and Emissions Show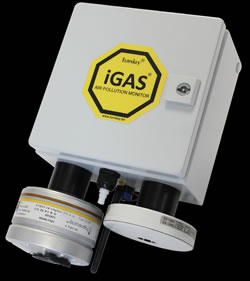 Turnkey Instruments will be releasing the all new iGAS instrument at AQE 2017 as well has demonstrating their full range of particulate monitors on Stands 74 & 75.
iGas is Turnkey's new internet gas monitor. Its multiple gas sensors are housed within a temperature controlled manifold and aspirated by means of an ultra-quiet pump making the instrument equally suitable for both Outdoor Environmental and Indoor Air Quality monitoring. Typical sensitivities are given below. Carbon dioxide is detected by means of a non-dispersive infra-red (NDIR) detector, VOCs (isobutylene) by a 10.6eV photo- ionisation detector (PID), and the other gas species by means of 4-electrode electrochemical cells. A propriety zero gas generation scheme is employed to eliminate zero drift in all of the gas sensor cells.